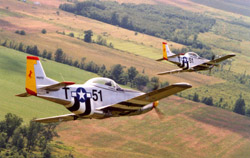 Pilot Report - Mustang Fever - Bill Hanshew, 15 October 2004


Flying right echelon with a pair of P-51 Mustangs has got to be a rush every pilot wants to experience. Come on, you don't have blue sky in your veins if you aren't absolutely in love with the clean, performance lines of a silver-skinned Mustang wearing an Army Air Force Star and Bar. Gazing out over my left wing, I couldn't help thinking about how beautiful a design it truly was when I heard the photographer break in over the intercom, 'That's a wrap, I've got some good shots.'

I felt the rear cockpit canopy slide forward as I gently nudged the throttle ahead. Funny, I didn't know my old Chinese CJ could get slow enough to do a formation shot with a pair of Mustangs. Now don't get the idea that my old 285 horse rice burner could even hope to keep up with a pair of genuine North American Mustangs, but it could slow up enough to run with a pair of brand new Titan T-51s, - no problem.

My flight cap is off to the genius of John Williams and his all-metal 3/4 scale Mustang. Williams and co-test pilots have flown two Titan wonders to Sun 'n Fun and all over the northeast as a shakedown cruise and ad blitz for their unique kit offering. The famed designer of the Titan Tornado will tell you straight out the the T-51 is the plane he reaally wanted to build ahead of his popular Tornado, which has sold over 600 kits. Williams observed the popularity of any number of Mustang knock-offs at both Lakeland and Oshkosh and endeavoured to bring his Mustang replica down to a level that offered both performance and ease of construction. Let's face it, driving and bucking rivets is an acquired skill. Ask any RV builder. Working with composites is another learning curve. Williams decided to stay away from both.

His T-51 would be a metal plane, as any true Mustang replica must be, but would primarily use 'pull-rivet' technology - a far easier method of construction. I know some builders will cringe at the through of a pull-rivet airplane, but relax. This isn't a pop-riveted flimsy affair. These are industrial pull rivets 'a la Cherry Max'. At critical areas, such as spars, they are real rivet driven and bucked for you. The wingtips are composite and come with the kit.

The ubiquitous 100-horse Rotax 912 powers this 75% scale 2024-T3-alclad Mustang with the ability to move up to the 150 horse arena. What you get with a realistic four-blade, constant speed composite prop: a cruise speed of 150 mph and an airplane that can land down at the low end of an Aeronica Champ.

Hewis, who has flown every taildragger from a Peitenpol to a Stinson Reliant, claims the T-51 handles easier on takeoff and landing than a stock J-3 Cub. Thanks to a wide great stance and low landing speed, the T-51 will roll to a stop in slightly more than 300 feet. Hewis prefers to wheel land the T-51, but as all things with a taildragger, that's simply pilot preference. Takeoffs are made at virtually the same distance with an impressive climb out of 1,200 fpm, meaning that any strip will more than handle the performance numbers of William's creation.
And Now - How Does It Fly

Let's get to what a pilot really wants to know - how does it fly? Simply put: you're flying a hot looking fighter on the skills of a sport pilot with a solid taildragger endorsement.

I flew with Williams last year over Lake Erie shooting the T-51 in formation with the B-17 'Yankee Lady'. Both are buff metal machines and both (in formation) gave me an eerie feeling that I had been rocketed back in time to a place over the English Channel circa June 1944.

I'm sure my huge grin could be seen from the right waist gun of the 'Lady'. They both looked, well - just 'right'. The scale of the T-51 did nothing to detract from the absolutely historic look of what Williams intended to be a faithful visual representation of the essence of a Mustang.

What Williams has done is put an affordable warbird replica into the hands of the average pilot. When seen in the air clipping along at 150 mph, even hardcore Mustang aficionados will be impressed by the faithful lines of this 3/4 scale fighter.