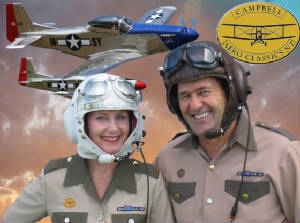 Ivan and Sandy Campbell
Campbell Aero Classics N.Z. Ltd and Campbell Aviation Ltd are owned and operated by Ivan and Sandy Campbell. The business is located at 'Loburn Abbey' - the Campbell's 46 acre private airfield/hangar facility/home in Loburn, North Canterbury, New Zealand (45 minutes from Christchurch International Airport). The area's micro-climate offers a spectacular playground for flying with its stunning snow-laden mountain ranges, close proximity to beaches and coastal areas and large areas of well-kept farmland.

A custom built hangar facility complements the property and is the workspace where the Campbell helmets are created, and Replica Warbird aircraft kitsets assembled by a small and experienced family based team.
Loburn Abbey Airfield and Hangar facility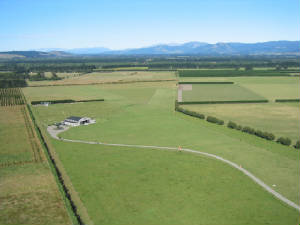 Loburn Abbey Hangar facility
At their annual pilgrimage to Oshkosh EAA Airventure in 2005, Ivan and Sandy Campbell were introduced to the Titan T-51 Mustang for the first time. Having previously experienced the long and laborious task of contstructing his own 80% scale replica Tigermoth, the FFP R-80, Ivan was quickly impressed with the latest Titan aircraft and knew others back home and abroad would definitely be interested in a 3/4 scale all-metal replica of the P-51D Mustang with its low cost and relatively quick build time and combination of good performance, agility, and freindly flying characteristics. Following Ivan's return, sales begun at a rapid pace in N.Z with 26 sales in under 12 months...the kit was proving immensely popular and there was not even one in the country yet! As the Mustang fever continued throughout N.Z, Australian based Supermarine Aircraft, manufacturers of the superb all-metal Spitfire kitsets, approached Ivan and Sandy to become the N.Z. Distributors for the Mk-26 (80% scale) and now Mk-26B (90% scale) Spitfire kits...these too have shown popularity in N.Z with several under construction around the country.
Campbell Aviation Ltd have now supplied the Australasian sector with over 40 aircraft kitsets of the Titan T-51 Mustang and Supermarine Mk-26/B Spitifire type, with the small family based team having built several for their clients from the company's homebase, 'Loburn Abbey' Airfield, allowing the long held dreams of many to own and fly a unique aircraft based on the legendary fighters of WWII to become a reality and to help keep alive the Golden Era of Aviation with a realistic and affordable approach.
We invite you to take your passion to the next level and join our ever growing list of special clients who are enjoying their experience with these lovely aircraft.


The inspiration for the development of this unique helmet...
Ivan's long-held passion and consuming interest in the golden era of aviation;

A personal desire to wear a helmet in keeping with the classic aircraft era, which combines today's sophisticated technology, at the same time retaining the authenticity of the early aviators;

A strong interest in aviation safety.
Breitling Fighters wearing the Campbell helmets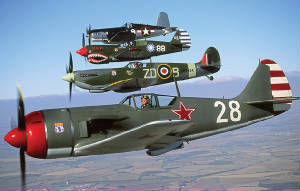 Combining 'kiwi' ingenuity and today's sophisticated technology, Ivan developed this exclusive hard shell flying helmet for aviators flying warbird, vintage, classic, open cockpit and many other sport and recreational aircraft. The helmet gives the pilot a totally authentic look while discreetly utilising today's leading technology, at the same time providing head protection, comfort and quality communication.

Spurred on by the support, intrigue and interest of aviators in New Zealand, the helmet made its debut at the internationally respected Warbirds Over Wanaka 2000 Airshow. A number of the airshow piltos were kitted out in time for the show and their response was overwhelmingly favourable.

Now meeting a unique market niche, these made-to-measure, handcrafted, personalised helmets are well-known in the aviation industry and are being worn on the heads by more than 800 aviators in 22 countires worldwide, with several clients attributing the Campbell Helmet to saving their lives and/or preventing serious head injury. Our clients include many of the world's most well-known and leading aviators in the U.S.A., United Kingdom, France, Australia, Europe, South Africa and of course New Zealand.

We invite you to join our ever growing list of special clients who are enjoying the experience of a Campbell Aero Classics Hard Shell Leather Flying Helmet.
N.Z. Warbird pilot John Lamont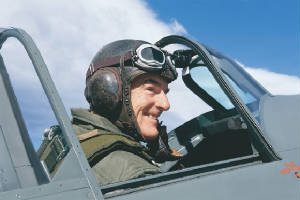 Ivan and Logan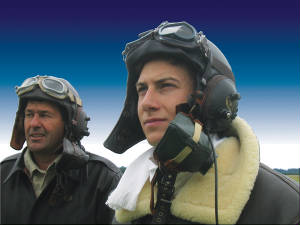 T-51 Mustang and Mk-26B Spitifire