See for yourself the acclaim the Campbell Helmets have received from well known aviators, to others who have attributed the Campbell Helmets to saving their lives, greatly improving comfort; noise levels; communications, and of course the look...
____________________________________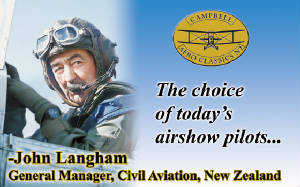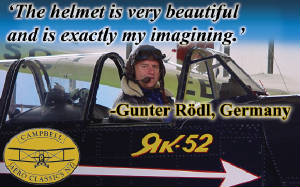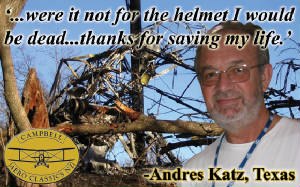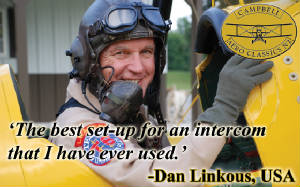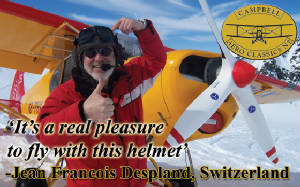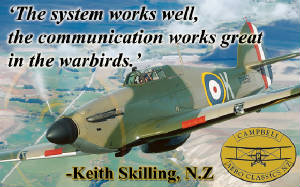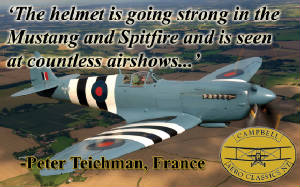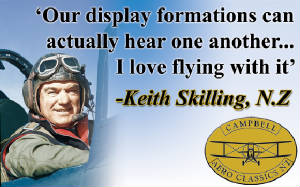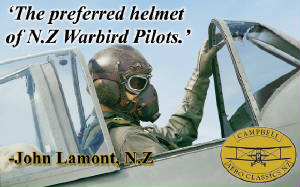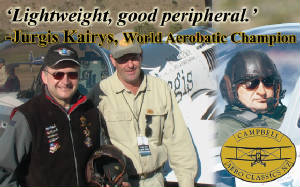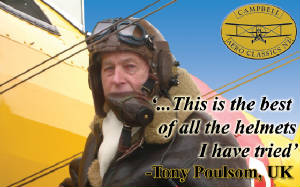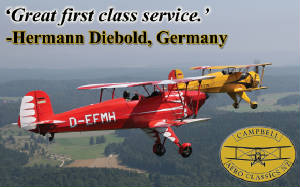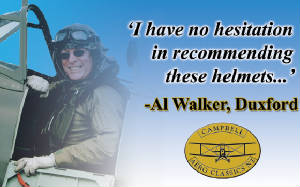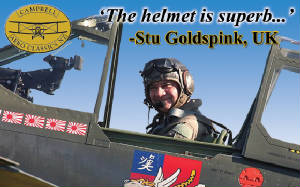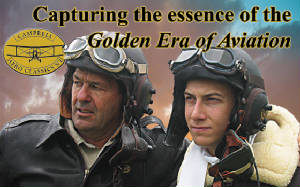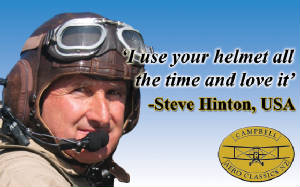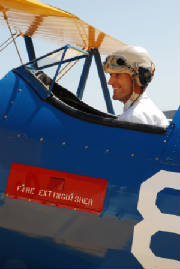 Love the helmet!
Thank You!
Allen PomianekSanta Monica, CA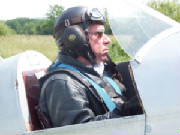 'This helmet is really comfortable despite high outside temperature this particular day, radio reception looks good.
This is undoubtely an outstanding product and one of my friends got in touch with you to order his own warbird helmet!'
Jean-Michel Garnier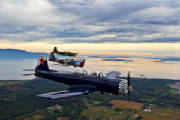 Hi Ivan and Sandy,

I have been using your helmet the last half of the summer and it has worked great. It fits perfectly and the headset is superior to my old one. On top of that I'm the coolest looking guy in the formation. Enjoy your summer and I'll look for you at Wanaka.

Cheers, Brad Engbrecht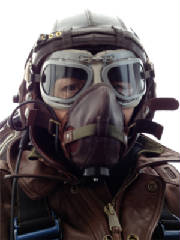 Hi Ivan & Sandy,
Having just flown from Melbourne to Perth, Australia, in our trusty Tigermoth VH-AZF, I can totally vouch for the Campbell Leather Helmets. After flying 53 hours in 2 and a half weeks, our heads are still relatively unaffected and we have almost no windburn due to the total coverage of our faces by the leather microphone masks and goggles.. The usual fatigue issue and ringing of the ears after such a flight is absolutely minimal, due to the much reduced noise levels. Communication with other aircraft and via the intercom has improved dramatically, especially due to the microphone mask and Electrec microphone. I found that other pilots could now understand me whereas before they couldn't, enhancing safety and just making the flight so much more enjoyable.
It took the first few flights to discover some minor pressure points and to sand back the lining a here and there, but after "wearing the helmets in" a little we didn't notice any discomfort. I find it entirely comfortable now.
These helmets have been the answer to our long term communication and general comfort issues.

Thank you both,
Kim and Chrissy Yoannidis.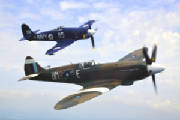 Dear Sandy and Ivan,
No longer any hot spot. Transmitting loud and clear (if not perfecton intercom, depending on other pilot's headset). Neck nape is a very goodidea Globally very happy. Thanks a lot.Here a pair of helmets in flight: Christophe (Sea Fury) and self(Spitfire) over Neuchatel in Switzerland on June 24, shot by JoRiemensberger, one of the best aircraft photographer in Europe, whose firstquestion when staging a rendezvous is: "Will you wear a Campbell?". Tout de bon. Robert FAIX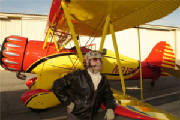 GOT MY HELMET TODAY, WELL DONE, WENT FLING VERY GOOD PERFORMANCE NICE AND QUITE, NO NEED FOR NOISE CANCELING. WILL SENT YOU MY OLD HELMET FOR REFURBISHING AND-- THANK YOU FOR THE TRINKET - - WHITE SCARF. JUST THE RIGHT LENGTH AND THICKNESS. ARE YOU GUYS IN THE HELMET BUSINESS,JUST KIDDING, GEORGE SCHREYER
Dear Ivan and Sandy,I'm pleased to say that it works wonderfully well in all manner of aircraft, the noise attenuation is superb, the comms crisp, and gives me piece of mind that I am protecting my most valuable asset. Kindest regards,
Sam Whatmough, Duxford, United Kingdom
(Display Pilot - T-6, PT-17, Yak-55)
Dear Sandy and Ivan, I have now completed 'operational testing' of my new Campbell Aero Classics Warbird Helmet Kit and absolutely love it. The helmet fits extremely well and is very comfortable, it is quiet (I no longer have to wear earplugs), it is of the highest quality, and ... last but by not means least ... it looks great! One of the biggest benefits of the Warbird Helmet Kit is that the mask allows the intercom to work very well, so well that I must say it is the best set-up for an intercom in a vintage airplane that I have ever used. Once again, much thanks for an excellent product... Warmest regards, Dan Linkous, U.S.A.
As Ivan knows I was one of the earlier recipients of a Campbell helmet in the Northern Hemisphere. Until that point I was 'making do' with a variety of headgear in order to satisfy the photographers and occasionally attmpting to listen to what Air Traffic were trying to convey to me! Upon trying on one of the OFMC'S Campbell helmets I knew immediately it was what I wanted. Light, sturdy and with excellent ambient noise attenuation, it obviously protects my hearing far more than previous helmets. The big plus is that it has the 'vintage' look about it.

I have worn the helmet in a variety of vintage aircraft from Chipmunks through to Hurricanes and Spitfires. I even wore it for a dispaly in the T33 on one occasion when my normal jet skidlid 'went on the blink'. The only aircraft that has defeated me is the Bf109 as the cockpit is just too cramped! I have no hesitation in recommending these helmets to friends and colleagues and shall continue to do so. Thank you Ivan and Sandy! Al Walker, Aircraft Restoration Company/ Historic Flying of Duxford, U.K.

I love your helmets I have been using hard hat helmets since 1974 when I was first checked out in the T33 and F86. I have had several custom fit ones through the years and two I use regularly. I like them a lot. They are quiet and comfortable. When I saw your Aero Classic Helmet I thought it looked good and if it worked at all I will like it just because it looked the part. I was very surprised to find out it was quieter than the custom hard hats I had been using. I can actually hear the air rush over the P-38 cockpit when I wear the Campbell helmet, the engine noise is absorbed by the helmet bettter than the two other custom fit hard hats I have had thousands of hours flying warbirds with. I have loaned out my Campbell helmet to many of my friends so they can see for themselves. It is a very good product. Thank You. Steve Hinton, Planes of Fame, Chino, U.S.A.

I'm really enjoying the helmet and the sound quality and noise reduction are a huge benefit in the Sea Fury. I also really like the lightweight and the comfort of this helmet. It's much nicer than my old 'bone dome', and it just looks so much better. People are amazed when I tell them it's a kevlar helmet. Thanks again! Steve Patterson, Hawker Sea Fury FB-11, 'Southern Cross'.

Ivan, Just wanted to say thankyou very much for the hat. I gave it the full air test at Goodwood last weekend and it was excellent. It's great to be able to hear ATC so clearly again! We are all off to France this weekend for more shows then Spain. Your helmet will be well worn in by then! Thanks again. Lee Proudfoot, Old Flying Machine Company, Breitling Fighters, Duxford, U.K.

AND MANY MANY MORE STILL TO COME .......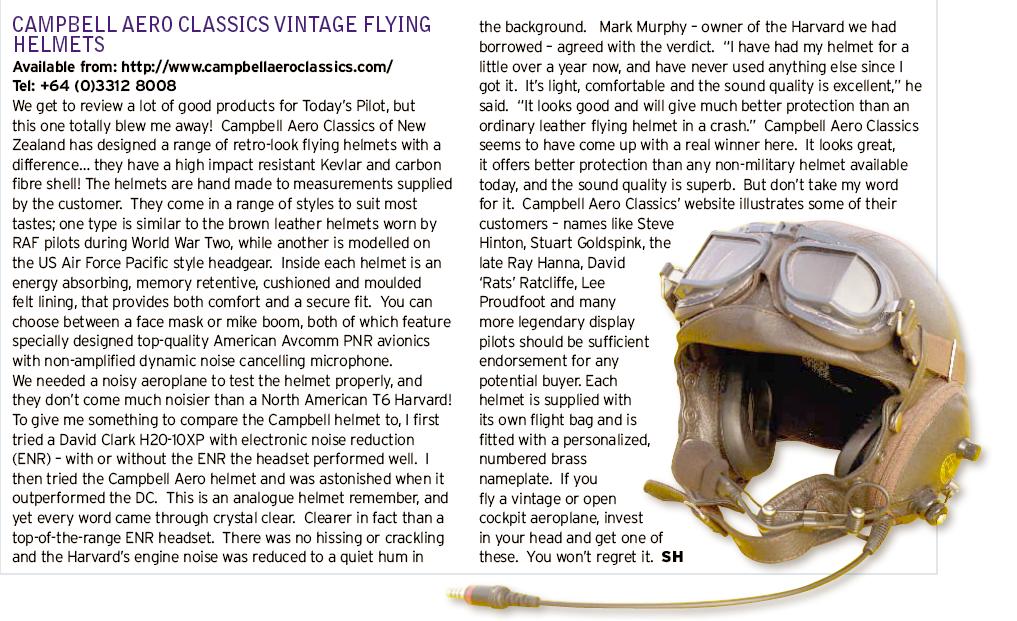 Hermann Diebold
Ivan, I received my beautiful helmet. I am very impressed with the quality. The audio is fantastic. Thanks so much. I will recommend to all of my friends. R. Mayes, U.S.A.
Dear Sandy and Ivan, The helmet has arrived, everything is fine. I flew the Bucker Jungmann and Jungmestier yesterday with the helmet and it worked great. Great first class service, thankyou. Mit freundlichen Gruessen. H. Deibold, Germany
Good morning Ivan. Today I received the helmet. Thankyou very much. It is really beautiful and fits perfect! Next step is to fly with it. Thanks also for the nice lambswool scarf and the cap. Kind regards. H. de Vries, The Netherlands
Hello Ivan, I'm just sending you some news of me and my fantastic helmet! I enjoy it very much. That's a real pleasure to fly with this helmet... I send you some pictures to tell you that I'm happy... Jean-Francois, Switzerland
Dear Ivan and Sandy, I received my Pacific helmet otday and wanted to thank you both for expediting my order so quickly. I am delighted with the helmet. It fits beautifully and the quality is outstanding. ...Once again, thankyou. Sincere regards, D. Nock, U.K.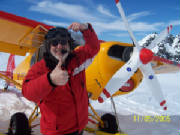 Jean Francois Despland, Switzerland
The helmet is great - beyond my expectations, so thanks once again.
Terry Funnell, Australia
_________________________________________________________


Ivan, I just received the helmet and I am really pleased. The only thing missing was the Spitfire. If anyone in my area would like to see your product, please have them contact me. Once again NICE JOB.
Randy Hunt, U.S.A.
__________________________________________________________________________


When you buy the aeroplane of your dreams, like most blokes you have to convince your wife it's safe and just what you both need, even though you know you're going to enjoy it more than she will. The next step is to buy her one of these helmets. And while I've had trouble convincing her it's a fashion statement, my wife does agree hers too is a work of art. Ivan they're impressive. My thanks, ...pardon our thanks. Glenn Darlington, Australia
_______________________________________________________________________________

Had a back seat trip in a Spitfire the other day - AWESOME! The helmet worked as advertised and I could hear everything my man said - a major requirement for me. The noise was incredible!! Looking forward to showing it off when I get to fly solo!

Yup, I am delighted with the finished product. It is a work of art in itself, almost too good to wear! Excellent job, well done. The noise attenuation, even in the Luscombe is great and just what I need. 15 years of helicopters has left its mark. I am delighted with the helmet and will put a huge amount of time in with it in place of my bonce! It fits well, looks great ... Oh, and I have used it in the Bentley as well!!! Regards, David Ratcliffe, Duxford, United Kingdom
****************************************************************************************************************

Helmet arrived today in great shape. Beautiful fit. I will be teaching a formation clinic and will display your craftsmanship. Regards, John Northey, British Columbia
_________________________________________________________________________________

We won't fly without our helmets now. We would not have attempted the circumnavigation of Australia without them. Dick Nell, Tiger/Stampe Pilot, Australia
________________________________________________________________________________



I have been using one of your flying helmets and am very impressed with it. I have used it in a Wildcat, SNJ, Stearman and Yak 55M. It is comfortable and does a great job of keeping the noise down. Thankyou for your quick response. Your quality and customer service is exceptional. Thanks again. David Frasca, Illinois, U.S.A.
_________________________________________________________________________________

I bought a helmet from you about a year ago. Flying a Stearman wouldn't be the same without it. I love it. Thanks for a great piece of equipment. Scott Martin, Ohio, U.S.A.
_________________________________________________________________________________

Flew into 'Woburn Abbey' in a Leopard Moth. Took a Griffon Spitfire to the Normandy Beaches and did 2 hrs 25 mins non-stop. the helmet was superb, and I could hear everything that was going on. I have also flown in the P47 Thunderbot and P40 Kittyhawk, and again the helmet was great. Best regards, Stuart Goldspink, United Kingdom.
_______________________________________________________________________________

The helmet you made for me is terrific. I never wear anything else now. Best regards and congratulations on a great job. Ray Vuillermin, Australia


Ivan, I have now had two flights with the new helmets and they are fantastic. I wish I'd listened to Dick Nell two years ago before our around Australia trip. Mark McLachlan, Tiger Moth Pilot, Australia
This is just to say THANK YOU for my beautiful helmet. It is all that I expected and even a little more. Johan Ferreira, South Africa

Thank you for your prompt delivery. The helmet is very 'beautyfull and is exactly my imagining'. Best regards Gunter Rödl, Germany

My new Campbell helmet was an early Christmas present from my wife. I was really looking forward to using it in the Hurricane to see what a difference it would make over my usual C type leather and ear plugs which looks the part if you don't mind being deafend. The fact that I can hear myself think - and hear ATC too - at 7 lbs of boost has made it really worthwhile. Here's looking forward to next season - and thanks.
Howard Cook, Historic Aircraft Collection/Vintage Wings of Canada/Reed Sparrows Formation Team

I can tell you that your helmet was a huge hit, and I probably fielded as many questions about that as I did about the airplane itself. Gary Austin, U.S.A., Pylon Racing Seminar, Reno, June 2007

Dear Ivan, That is certainly more suport than I could have asked for. Thankyou very much. Thanks, again, for making a superior product. I close with an appropriate adage "...the bitterness of poor quality remains long after the sweetness of low price has worn off". I would buy yours again without even giving it a second thought. Best. Harry Ballance, Atlanta, Georgia, U.S.A

Hello Ivan and Sandy,
Received helmet on the 3rd Nov, and have had several hours of use and am most pleased with it. It is very comfortable and a pleasure to sit in such a rowdy environment as the Spitfire AND HEAR what others are saying so clearly. Thanks very much, it will be a treasured item in the aircraft... Cheers, Rod Riddle, Australia
____________________________________________________________________
Stunning Classical Look, Outstanding Noise Attenuation
Superb Custom Fit Comfort, Premium Kevlar Protection
The choice of today's aviators worldwide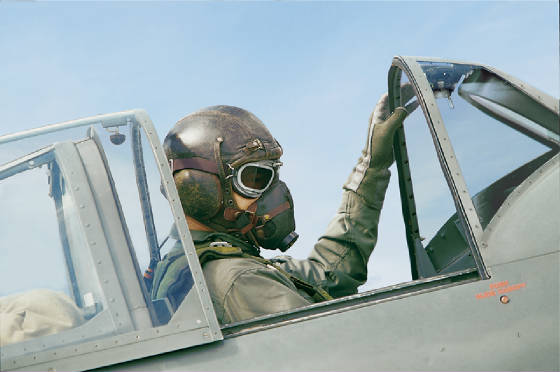 Keeping alive the Golden Era of Aviation

_____________________________________________________________________________________________________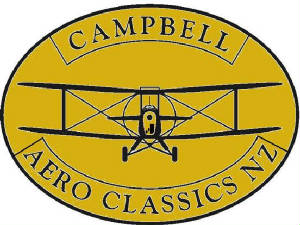 Back to Top
Disclaimer: Campbell Aero Classics N.Z. Ltd accepts no responsibility for any injury or loss arising from the use of the products on this website.

© 2018 Campbell Aero Classics All rights reserved