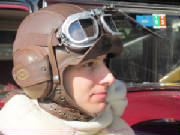 The Rally Helmet
A Classic Helmetfor Classic Rides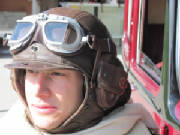 Stunning Classical Look, Outstanding Noise Attenuation
Superb Custom Fit Comfort, Premium Kevlar Protection
The Helmet Kit
Each Helmet includes the following:
Genuine New Zealand leather outer in a choice of antique brown, finished brown, white, beige, and black. Other custom options available also.
World War II Halcyon flying goggles in either the Mk 8 split lens, or the Mk 410 oval shaped lens. These come in a range of 4 different pad and frame colour schemes each, and tinted or untinted lenses for the Mk 8 stlye only.
Flick down peak designed to shade eye area, and fold down neck nape piece which is designed to fit under a jacket collar and prevent elemental exposure (wind, water, sun) around the neck area and when not in use folds up and snap buttons to the helmet...perfect for open cockpit and cold weather.
Completing the kit - a sturdy canvas helmet bag, a 100% New Zealand merino wool flying scarf, leather wax dressing, and a logo embroided cap.
You can be rest assured that Campbell Aero Classics prides itself on its personal service with customers and makes every effort to ensure that your product is performing at its best. We treasure the relationships we build with our clients and look forward to having you join this special group of enthusiasts...