Titan's Full Size Mustang
The initial stages of development
Titan Aircraft, producers of the popular T-51 Mustang and Tornado aircraft kitsets, announced in 2009 their plan to create a full scale reproduction kitset of the NA P-51D Mustang. This exciting news was meet with immediate interest both in the States and here in N.Z. as such an aircraft is just what we've been waiting for. The project is a major undertaking and as such is expected to take several years to come through with the prototype. Engine options discussed have included the Chevrolet LS series V8s as well as the potential for a turboprop powerplant.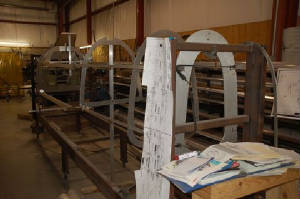 We are all waiting in anticipation to see this project come to life and eventually arrive on our shores - this will be a marked occassion for Replica Warbirds as it is becoming increasingly noticeable the tremendous costs and work involved in operating the Original WWII Warbirds. Such an aircraft will be the ultimate tribute to these machines that fought for our freedom, and at a fraction of the cost and work involved.
The full scale Titan Mustang continues to undergo development at the Titan factory in Ohio, U.S.A. We are expecting to see completion of the prototype some time next year (2012)...contact us today to discuss your options.
Keeping alive the Golden Era of Aviation
_____________________________________________________________________________________________________