Titan T-51 B Mustang - the Razorback is back at last...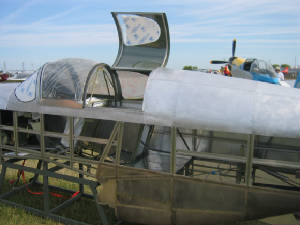 The new B model at Oshkosh 2009
But wait there's more....the new B model razorback T-51 variant has finally been unveilled, as shown here. The extra depth of the razorback gives the aircraft a more noticeable presence as a scaled replica, and as you can see here it looks fine on display for the first time at Oshkosh EAA Airventure 2009 with another two Titan V6 T-51 Mustangs. The aircraft comes with the same configuration as the original T-51 with two seat dual control; V6 and Rotax engine options with constant speed prop; fully retractable undercarriage; fowler flaps; and of course the same friendly flying characteristics, superb performance, and low cost and maintenence fees...
The one shown here is the first of its type and will be heading to the U.K to be completed and then take to the skies...we hope to see one in N.Z. and Australia asap! Current B model kit pricing is US $62,900...contact us today to discuss your options for this superb machine that will get your heart thumping like no RV ever could.
You can see more photos of this option on the Titan website, follow the link below.
Titan Website B model specs and photos...
Keeping alive the Golden Era of Aviation
_____________________________________________________________________________________________________